SPEC/RG: Exploring the frontiers of performance
Formed in 2011, the SPEC Research Group provides a platform for collaborative research efforts in the area of quantitative system evaluation and analysis, fostering the interaction between industry and academia in the field. Like seemingly everything at SPEC, it has spawned widespread growth in scope and participation over the last eight years.
Research efforts at SPEC/RG are targeted at both traditional computer benchmarking and experimental system analysis in general. They address classical performance aspects (amount of work done vs. time and resources spent) as well as system properties such as reliability, security or energy efficiency, according to SPEC/RG Chair Samuel Kounev.
Under SPEC RG co-sponsorship, the ACM/SPEC International Conference on Performance Engineering (ICPE), in its 10th year in 2019, offers a balance between academic and industrial participants exploring diverse subjects such as performance measurement, modeling, benchmark design, and run-time performance management.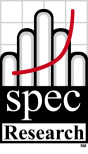 The SPEC/RG umbrella now covers six working groups:

Currently the largest SPEC group with more than 50 members, SPEC/RG also offers recognition for outstanding performance research through the annual SPEC Kaivalya Dixit Distinguished Dissertation Award.