The 2023 SPEC Presidential Award Laureate
Ashley Cowart, AMD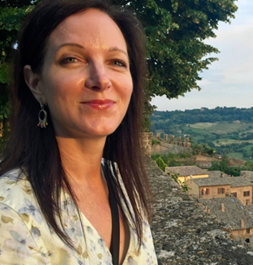 The quest to make things better
Take a close look at Ashley Cowart's career and you'll see a common thread: The quest to make things better.
In her years with SPEC and as chair of the Graphics and Workstation Performance Group (GWPG), that quest has led not only to better benchmarks, but also improved marketing, communications, internal procedures, and collaboration among the diverse groups that comprise SPEC.
Setting the foundation
Ashley grew up in Florida, a girl enthralled by mathematics. After earning a Bachelor of Science degree in Computer & Information Sciences from the University of Florida, Ashley developed graphics software for an F-16 aircraft training system and helped create specialized hardware and software for advanced image-processing applications. She moved on to Silicon Graphics (SGI), where she helped bring dinosaurs to life in Jurassic Park, and then on to Industrial Light & Magic (ILM), where she was instrumental in creating visual effects for iconic films such as The Perfect Storm, Star Wars Episode II, Pearl Harbor, and Planet of the Apes. Her next stops were ESC Entertainment, where she contributed to the Matrix trilogy, and then a gaming studio that created the Tomb Raider/Lara Croft franchise.
Throughout this period, Ashley came to appreciate how faster and more capable graphics hardware and software enabled visual effects artists and game developers to push the special effects envelope. She also gained the perspective of being a customer of hardware vendors, which served her well when she took her skills to ATI, which was later acquired by AMD.
Beyond the call of duty
Ashley began representing AMD within GWPG in 2010 and was elected GWPG chair five years later. As a working committee member, she led the development of two benchmarks based on Dassault Systèmes Solidworks and PTC Creo CAD applications. As committee chair, she has presided over the work of three subcommittees establishing workload definitions, developmental methods, graphical user interface design, metrics definitions, licensing clarifications, and fair-use documentation for nearly two dozen new and updated benchmarks over a seven-year span.
Her quest for continuous improvement doesn't stop at benchmark development. She led an effort to step up GWPG marketing that set new records for benchmark downloads, media coverage, and sales revenue. She took it upon herself to bring to market a new GWPG website that combines beauty, ease of use, and functionality. She has also nurtured a culture of fun within GWPG, arranging special events at meetings so people can get to know one another outside the confines of work. As she says, "We're doing serious work, but there's nothing saying that we can't have fun while doing it."
Her reach extends beyond GWPG to serving on the SPEC Board's Communications Committee, where she led the effort to refresh the SPEC logo, driving consensus across the Committee, PR, the Board and other stakeholders.
Collaboration for the greater good
In her leadership role within SPEC, Ashley realizes that the organization's greatest resource is people. Her emphasis on people transcends the development of better benchmarks. In Ashley's eyes, it includes developing trusting relationships that often last for life.
"There's a lot of respect and appreciation among the people who excel at workstation performance benchmarking," says Ashley. "We might come from competing companies, but we work as one cohesive team for the greater good. We're committed to developing fair and representative benchmarks. It's great for the industry and it's great for my company AMD, but it's also deeply satisfying to help all users make better decisions about their computing solutions."