SPEC® CINT2006 Result
Copyright 2006-2014 Standard Performance Evaluation Corporation
Sun Microsystems
Sun Blade 6048 Chassis (48 x X6440 Blades)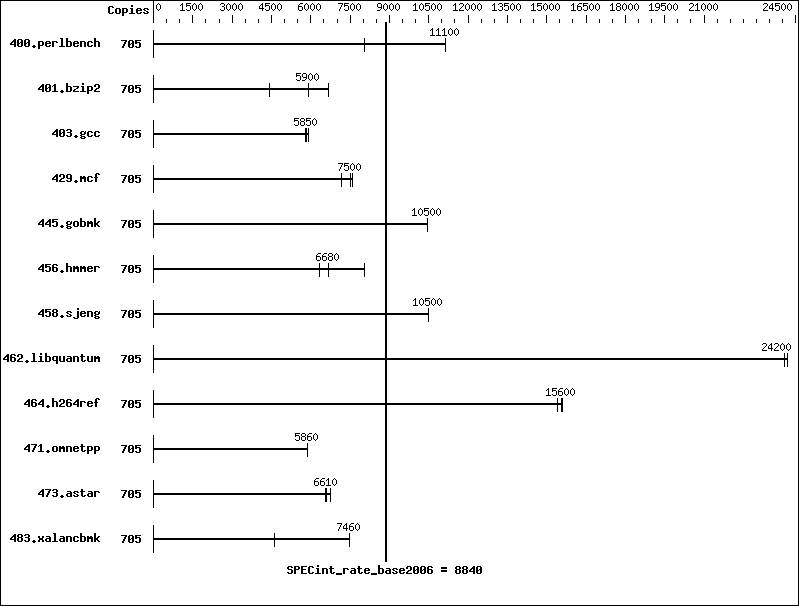 The config file option 'submit' was used, along with submit.pl to
 distribute jobs to all Sun Blade X6440 server modules.
 It also uses 'pbind' to bind processes to cores.


 ulimit -s 131072  (shell): increases stack
 /etc/system parameters on all nodes
     tune_t_fsflushr=10
     autoup=900
     set lpg_alloc_prefer=1
    The following /etc/system settings were changed on the node that was running runspec:
     set maxusers=2048
     set rlim_fd_cur=1000


 Sun Blade 6048 Chassis may be ordered with up to 48 Sun Blade server modules.
 Test configuration contains 48 Sun Blade X6440 server modules. Each
 Sun Blade X6440 server modules has 4 chips.
 Default BIOS settings used.


 The NFS server used was a Sun Fire X4540 containing 48 x 250GB 7200RPM SATA disks.
 Connections to the clients were via gigabit ethernet.