SPEC® CFP2006 Result
Copyright 2006-2018 Standard Performance Evaluation Corporation
Sugon
Sugon A620-G30 (AMD EPYC 7601)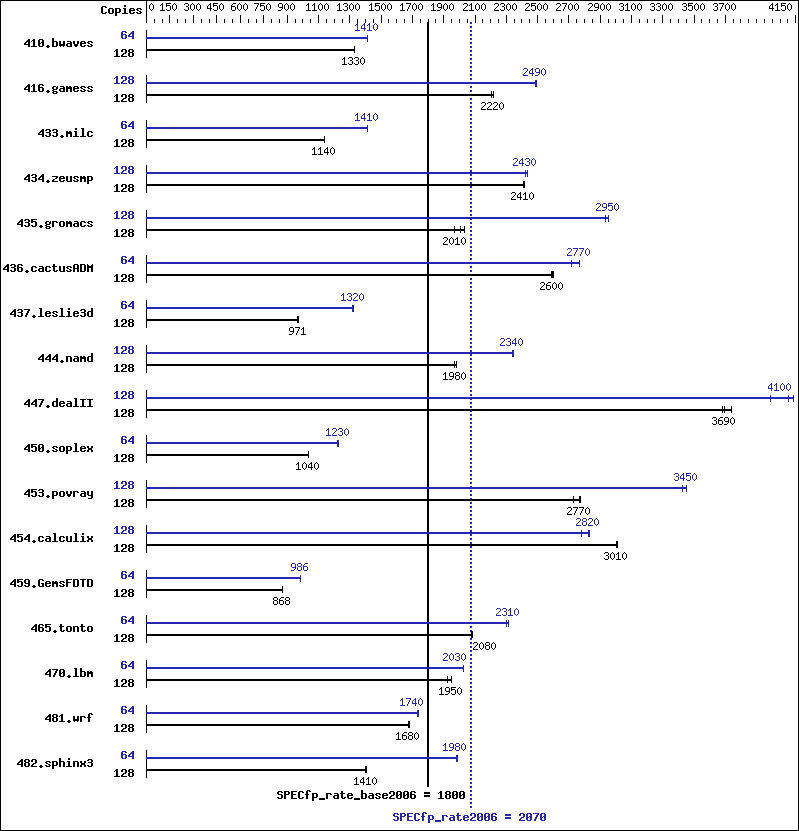 The config file option 'submit' was used.
'numactl' was used to bind copies to the cores.
See the configuration file for details.


'ulimit -s unlimited' was used to set environment stack size
'ulimit -l 2097152' was used to set environment locked pages in memory limit

runspec command invoked through numactl i.e.:
numactl --interleave=all runspec <etc>

Set dirty_ratio=8 to limit dirty cache to 8% of memory
Set swappiness=1 to swap only if necessary
Set zone_reclaim_mode=1 to free local node memory and avoid remote memory
sync then drop_caches=3 to reset caches before invoking runcpu

Transparent huge pages were enabled for this run (OS default)

Set vm/nr_hugepages=114688 in /etc/sysctl.conf
mount -t hugetlbfs nodev /mnt/hugepages


BIOS settings:
Determinism Slider = Power
cTDP Control = Manual
cTDP = 200
This system Sugon A620-G30 is electrically equivalent to Sugon A420-G30 populated with the same processors and memories. This result is tested on a Sugon A620-G30 system.


Environment variables set by runspec before the start of the run:
HUGETLB_LIMIT = "896"
LD_LIBRARY_PATH = "/home/cpu2006/amd1603-rate-libs-revB/32:/home/cpu2006/amd1603-rate-libs-revB/64"

The binaries were built with the AMD supported x86 Open64 Compiler Suite,
which is only available from AMD at
http://developer.amd.com/tools-and-sdks/cpu-development/x86-open64-compiler-suite/
Binaries were compiled on a system with 2 x AMD Opteron 6378 chips + 128 GB Memory using RHEL 6.3